Law Essay Writing Service
At LawTeacher, our mission is simple: to assist students with their academic and professional legal studies and help them achieve more. We produce bespoke essays to help students – it's as simple as that. Sometimes even the best student can struggle with writing; that's why we've spent over a decade finding the finest writers to help students of all capabilities complete their legal essays. Simply send us your question to get started today.
What we include
A Perfect Legal Essay, Every Time
We only provide perfectly written, fully referenced, 100% original work. Legal essays are often very different to those produced in other subjects, and understanding how to form a proper legal argument, complete with analysis, is challenging. Using some of the world's finest legal writers, we cover all areas of law, including both common areas, such as criminal law, tort law and jurisprudence, and more specialist areas, such as international law and shipping law.
In-Depth Legal Quality Check
Every legal essay we provide undergoes our strict quality checks in order to ensure that the work meets our exacting standards. Our in-house quality team of law-qualified experts complete a multi-point check, to make sure everything in the work - from spelling and grammar through to referencing - is perfect. We'll also ensure the laws, cases and acts cited are accurate and up to date.
Fully Referenced, Plagiarism Free
Using our custom plagiarism scanner, Viper, we scan every piece of work submitted to us before it is sent onto you. We'll verify that the unique custom legal essay our writer has created is 100% plagiarism-free, with a detailed scan and report to highlight any matched content. You can rest assured that your work will be perfectly cited, using whatever style of referencing you choose.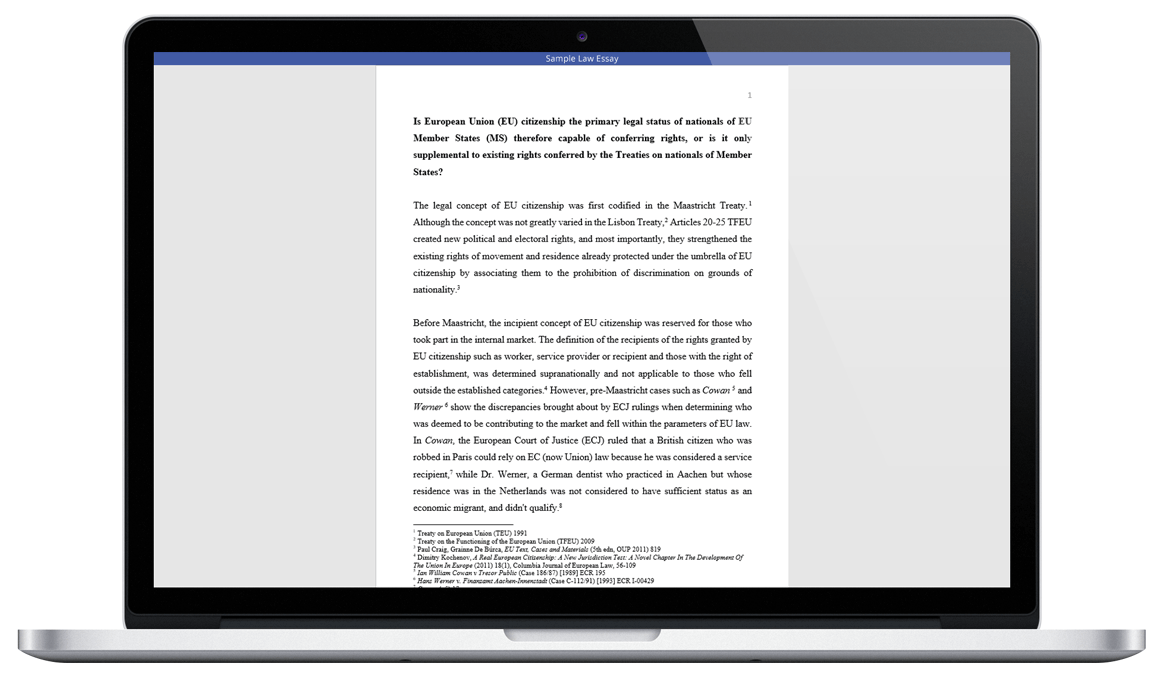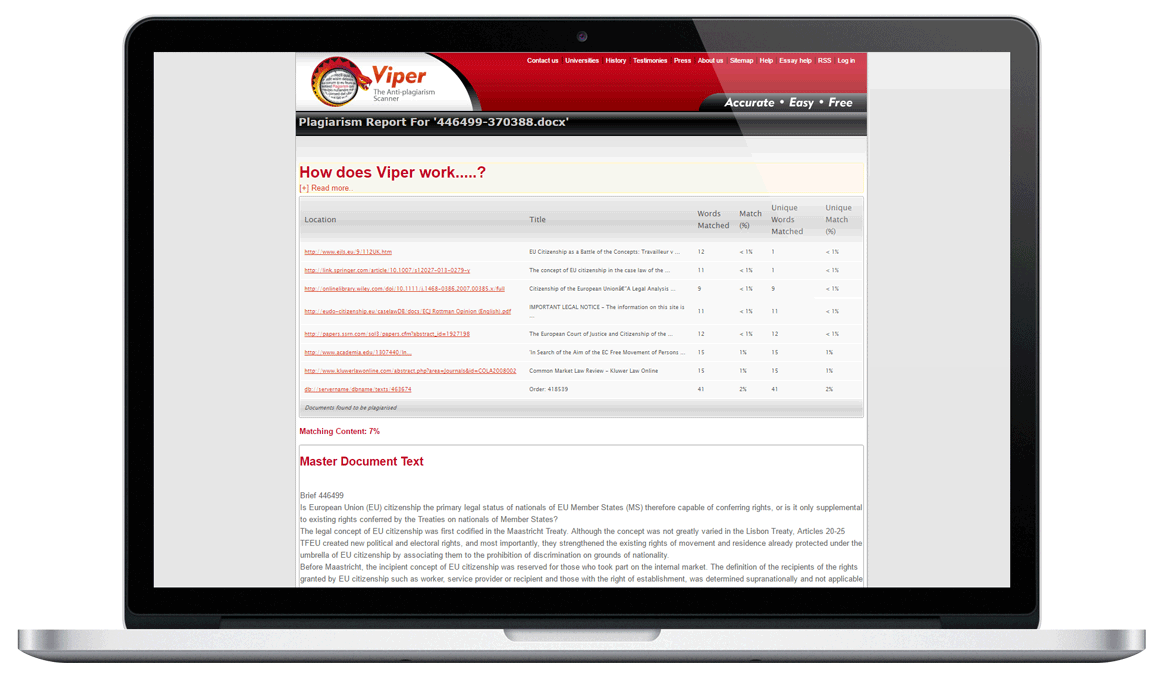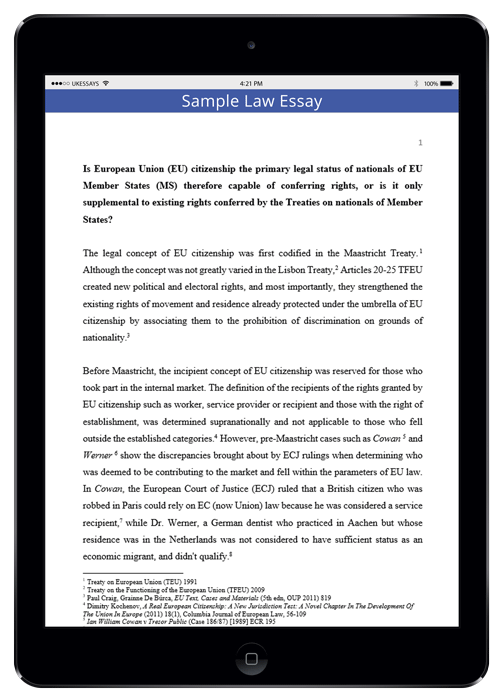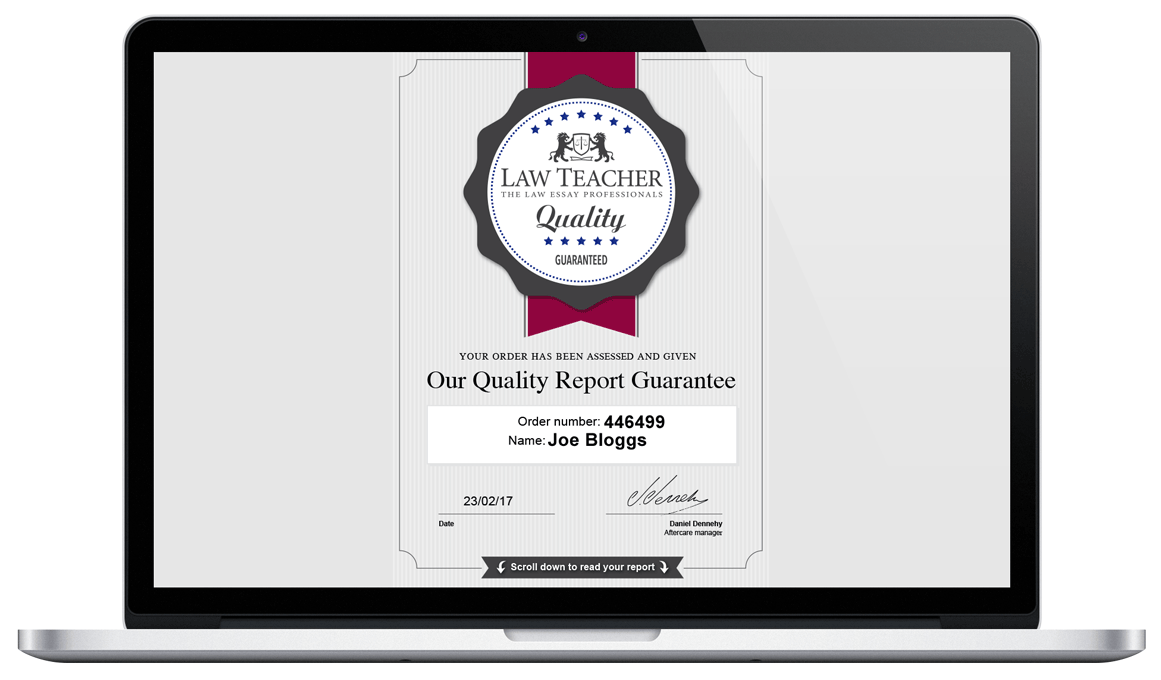 Five Steps to Legal Success
Getting help with your work couldn't be easier. Just follow these simple five steps to get started:
Place your order: Complete our easy-to-use order form, providing as much detail as you can about your work. We'll then give you a quick call to confirm we've received your order.
We find a writer: Our in-house experts check your request to make sure we have everything we need to do a great job, and then we locate one of our expert academic writers to complete your order.
Your work is written: Once your order is assigned, your writer will start their research, locating the most relevant sources and writing your work. If they have any questions or encounter any issues, we'll get in touch straight away.
We check the quality of your order: Our qualified Quality Control team review your work, to make sure everything is just how you requested it, along with ensuring the spelling and grammar are perfect.
Download your order: Simply download your work from your online account. You can also download your quality report and plagiarism scan.
Clear and transparent pricing
At LawTeacher, we aim to be fully clear and transparent with our pricing, so you always get the best value for your requirements. Our prices are determined by the grade you require, the word count you need and the delivery date you need the work back for.
Undergraduate 2:2
£122
Based on 1,000 words
Delivered in 7 days
Fully referenced
Answers the question
No plagiarism
Popular
Undergraduate 2:1
£138
Based on 1,000 words
Delivered in 7 days
Fully referenced
Answers the question
No plagiarism
Some critical analysis
Undergraduate 1st
£275
Based on 1,000 words
Delivered in 7 days
Fully referenced
Answers the question
No plagiarism
Insightful critical analysis
Extensive use of sources
Exceeds tutor's expectations