Law Assignment Writing Service
We provide a variety of law assignment writing services to help students in their academic and professional legal studies. Sometimes even the best of students can struggle with writing; that's why we've spent over a decade finding the finest legal writers to help students of all capabilities complete their assignments. If you're an Undergraduate or Masters law student looking for help, then you are in the right place!
Law Assignment Samples
Check out some samples of our high quality work today!
Prices from
£
124
Undergraduate 2:2 • 1000 words • 7 day delivery
Order an assignment
Delivered on-time or your money back
Written to Standard
Plagiarism-free
Always on Time
Unrivalled Quality
Why choose our Law Assignment Writing Service?
Our law writers are experienced in a wide range of core and specialist topics. From understanding the law to the application of it to real world scenarios, our writers can tackle virtually any assignment. We work hard to match the perfect writer to your assignment problem in order to create the perfect answer to aid in your learning and understanding.
We've produced some samples of what you can expect from our Law Assignment Writing Service - these are created by our writers to show you the kind of high-quality work you'll receive. Take a look for yourself!
Reasons to choose LawTeacher
We only allow our expert academic researchers with matching qualifications to take on your work.

Your order will go through rigorous quality control and is checked against your instructions and academic standards by qualified professionals, we'll even give you a quality report to show our findings.

Your order will come with a plagiarism report which is compiled with our state-of-the-art plagiarism software, ensuring the work that is produced is not plagiarised.

You get a 7 day amendment period, so if you're not happy with the work, let us know and we'll resolve any concerns.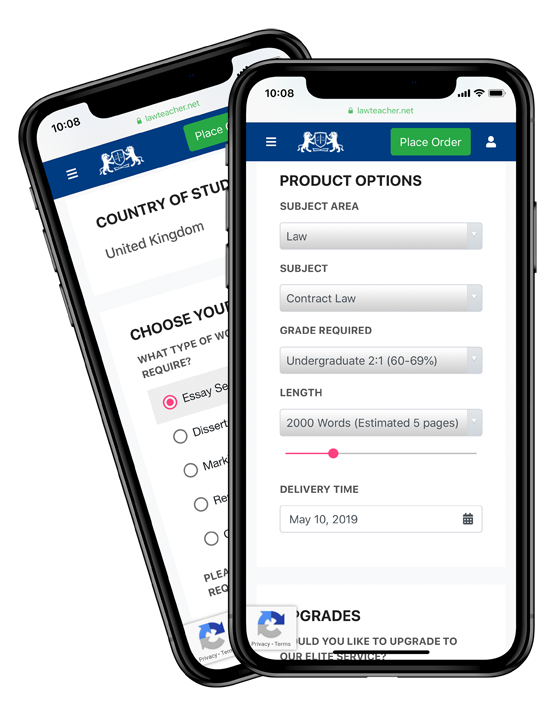 Our order process is simple Three easy steps!
Start your LawTeacher order

To get started, head to our order form, here you can calculate a price based on your specific requirements. Next, we ask to know the basics, such as the word count of the assignment, when you need the order by, and the subject area you study.

Tell us all your requirements

Next, we'll ask for a little more detail. It helps us to have as much information as possible because it will help us to choose the writer who will suit your order best! We'll send you a confirmation of your assignment order, and you can add extra details whenever you like before work gets started. Don't worry: our team will get in touch with you to confirm the specifics before we send your order out to make sure nothing has been missed!

An academic expert will start your order

You can pay for your assignment at any time, but it's best to pay as soon as possible to enable us to find you a writer. Once you've paid a minimum of 50% of your order cost, your order is ready to go! You can keep track of your order via our online Customer Control panel and will receive regular updates via email so you know your order is in good hands.
Our Fair Use Policy
Our Fair Use Policy outlines how the work we provide should be used, and gives you the necessary guidance to get the most from your model answer.
Why you'll love LawTeacher
At LawTeacher, we aim to be fully clear and transparent with our pricing, so you always get the best value for your requirements. Our prices are determined by the grade you require, the word count you need and the delivery date you need the work back for.
Plagiarism free
Every legal assignment writing order will provide you with fully referenced and original work, written by one of the UKs finest academic legal writers. We cover all areas of law, including areas such as criminal, tort, jurisprudence and more specialist areas such as international law and shipping law.
We check all of the work we produce to ensure that it is completely original, using our own custom plagiarism scanner. Your custom order is not passed through any third parties during our thorough scanning process.
Expertly assessed quality
Every single order receives comprehensive quality checks to ensure that it meets our high standards. The checks include everything from the basics such as spelling and grammar through to the more complex details such as ensuring that your order is critical rather than descriptive and that it uses only the most relevant cases.
Take a virtual tour of the LawTeacher offices
Still not sure that we are a genuine company? While many companies in this sector can be faceless organisations with virtual offices, we are happy to show the inside of our offices for you to wander around in cyber space.
Don't just take our word for it!
We've served over 25,000 customers since 2003. Take a look at some of the great reviews of our service from the independently verified reviews site, reviews.io.

I found the LawTeacher team to be very helpful, discreet and thorough. The work is of a high standard and I was generally happy overall

Anonymous
Thanks for supporting me and delivering the notes in a timely manner. Great researcher & writer.

A.Husain
LawTeacher was helpful in getting my thoughts & ideas together to better write my essay. I appreciate the service you provide.

Anonymous
Excellent service and quality work.

Joseph
Great service and fantastic skills

Peter G
Excellent service

Anonymous
Related services
We offer many different services to help you get the best out of your education. Whether you're an undergraduate or master's student, we can help!