Coursework Writing Service
Our Law Coursework Writing Service can tackle any question or problem! If you're in need of some support with a tricky piece of coursework, our expert legal writers are on hand to help. Our service guarantees high-quality, plagiarism free coursework written by the best experts, and your work will always be personalised to meet your needs.
Law Coursework Samples
Check out some samples of our high quality work today!
Prices from
£124
Undergraduate 2:2 • 1000 words • 7 day delivery
Place an order
Delivered on-time or your money back

Why choose our coursework writing service?
We're experienced in all aspects of law, from core modules like contract, criminal and tort law, through to more advanced modules, such as finance or family law - our legal writers are experts, qualified in UK law, EU law and more. Every piece of legal coursework we deliver is guaranteed to feature up-to-date cases, acts and laws. Each order will be unique and perfectly referenced, and it even comes with a money back guarantee: that's how confident we are that you'll be satisfied!
We've produced some samples of what you can expect from our Law Coursework Writing Service - these are created by our writers to show you the kind of high-quality work you'll receive. Take a look at our sample law coursework.
Reasons to choose LawTeacher
We only allow our expert academic writers with matching qualifications to take on your coursework.

Your order will go through rigorous quality controls and is checked against your instructions and academic standards by qualified professionals, we'll even give you a quality report to show our findings.

Your coursework order will come with a plagiarism report which is compiled with our state-of-the-art plagiarism software, ensuring the work is 100% free of plagiarism.

You get a 7 day amendment period as standard, so if you're not happy with the work, let us know and we'll resolve any concerns.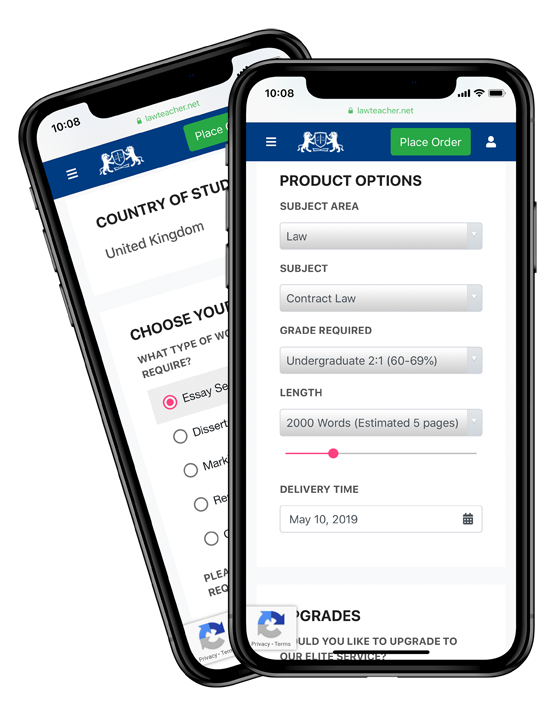 Our order process is simple

Three easy steps!
Start your LawTeacher order

In the first part, we ask you about your order. This includes the grade you want, the word count, and when you need your coursework for, so make sure you give yourself some extra time to re-write the work!

Tell us all your requirements

Next, we ask for a few more details about your work. It's important that you give us as much information as possible, because this will help us to find the best writer for you, and get your work started as soon as possible! We ask you to send us any files that are relevant and any information about the topic.

An academic expert will start your order

Once you have entered all the information, our Customer Experience Team will confirm your coursework order with you and check over the order details. You can pay now or later, but it's better to pay quickly because this allows us to find a writer and begin your order much faster. You can pay by credit/debit card, by Amazon Pay or by bank transfer. Our payment system is fully secure, and you will always receive a payment confirmation from us by email.
Our Fair Use Policy
Our Fair Use Policy outlines how the coursework we provide should be used, and gives you the necessary guidance to get the most from your model answer.
Why you'll love LawTeacher
These are just some of the great things that are waiting for you when you order with LawTeacher.
Plagiarism free
We're proud to be the only company with our own plagiarism scanner: Viper. Your order is guaranteed to be 100% unique, having been scanned for similarities to ensure the work is plagiarism free. Your work will only be yours - it will never be replicated, and arrives with a free custom plagiarism report to give you extra peace of mind.
Uncompromising quality
We understand that coursework for a law degree is expected to conform to specific conventions, and that excellent legal coursework should therefore be completed quite differently to coursework in other subjects. At LawTeacher, we're committed to excellence: to ensure perfection, each piece of coursework undergoes thorough examinations by our in-house Legal and Quality Control teams.
Don't just take our word for it!
We've served over 25,000 customers since 2003. Take a look at some of the great reviews of our service from the independently verified reviews site, reviews.io.

I found the LawTeacher team to be very helpful, discreet and thorough. The work is of a high standard and I was generally happy overall

Anonymous
Thanks for supporting me and delivering the notes in a timely manner. Great researcher & writer.

A.Husain
LawTeacher was helpful in getting my thoughts & ideas together to better write my essay. I appreciate the service you provide.

Anonymous
Excellent service and quality work.

Joseph
Great service and fantastic skills

Peter G
Excellent service

Anonymous
Related services
Maybe you've realised that you need a different type of work. That's great! We can help you with our essay writing service or report writing service. We can even check over work that you've already written and offer you detailed feedback with our marking and proofreading service.